Chalice
Chalice is a solo journaling role-playing game where you chronicle the perilous journey of a Grail-seeking knight in Arthurian England. During the game, you will tell the story of your Knight's physical and spiritual descent as they quest for, and ultimately fail to find, the Grail. Your Knight's quest is doomed. Their chivalric virtues will be surely undone by their fatal flaws and moral shortcomings.

To play you will need a deck of tarot cards, a pen and journal for recording your journey and deed, and a quiet place in which to divine, reflect and write. Play progresses through Prompts, delivered by the oracular tarot deck and interpreted by you.
For physical copies: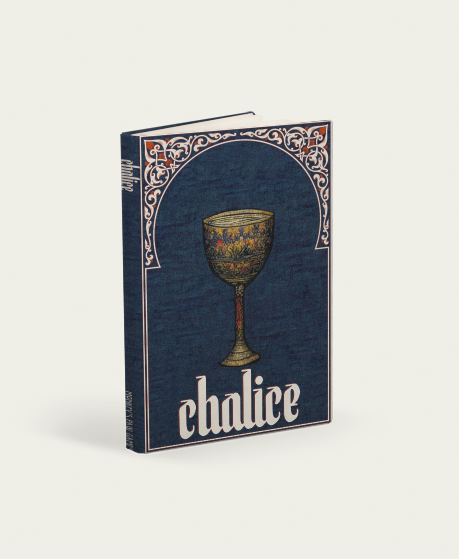 THIS IS A PRE-ORDER ITEM. IT WILL SHIP Q4 2022. ANY NON-PRE-ORDER ITEMS INCLUDED IN AN ORDER WITH THIS ITEM WILL NOT SHIP UNTIL THIS ITEM IS AVAILABLE. PDF SENT UPON SHIPMENT.
Purchase
In order to download this TTRPG you must purchase it at or above the minimum price of $10 USD. You will get access to the following files:
chalice edited plusbleed singles.pdf
5 MB
Exclusive content
Support this TTRPG at or above a special price point to receive something exclusive.
Community Copies
If this game is something you'd like to try but isn't in your budget right now, please grab a community copy, or contact me.
Download demo
Comments
Log in with itch.io to leave a comment.
This is by far the best tarot based ttrpg I have played ever. Everyone should give it a try.
I came across this within the Racial Justice bundle and I'm having a blast so far! I notice that you write the number nine as VIX instead of IX. Is this a stylistic choice or a typo?
Are you sure it was in the Ukraine bundle? I have that bundle as well but it does not show a download button above like it does on other included games from that bundle.
Sorry! I had the bundles mixed up.
Thanks a lot for the clarification, I am rather new to itch and thought I mixed things up. But that gives me a good excuse to buy the next bundle.
Any chance of a physical copy?
Wiat, what happened here? Version 3.0 is completely different game by a different (differently named?) author.
Same author, new name! 3.0 is indeed a completely different game, just as 2.0 was from 1.0. An evolution from a BITD hack to a Trophy hack to what it is now!
Any chance of making the old versions available for those interested?
I throughly enjoyed playing your game! I couldn't get a group together to play the game right now but the setting and tone of the manual excited me so much I couldn't wait. So, I went ahead and tried doing a solo play of it! It worked surprisingly well and the experience was deeply moving to me

If your interested, I posted an actual play of my experience playing solo and the heart-wrenching story your game inspired on my blog: http://theadventurersnotebook.com/
Again, excellent work. I'm looking forward to playing it with a full party of knights next time!
Chalice is a 44 page arthurian rpg run on the Trophy engine. It's GM'd, multiplayer, and no prior knowledge of Trophy is needed to play. You do need a deck of tarot cards, though.
In Chalice, you play as knights questing for the grail. The grail is unattainable, and over time your failures and flaws will add up until you lose sight of it and choose a different path.
The Trophy engine is designed for slow-burn horror, and Chalice leans slightly in that direction---but instead of horror, the threat to the PCs is dishonor and worldliness.
Setting-wise, Chalice leans a fair bit into the arthurian supernatural. You could almost certainly use this game to run Dark Souls, and there's a noticeably grand and tragic air to the snippets of gameplay that the book describes.
The game also comes with a scenario, The Cathedral of Green, which is evocative and solid.
I think my only critique of Chalice is that one of the central conceits, that the knights give in to sin and do not succeed, is going to feel forced if the players play to succeed rather than to destroy their characters. It's really worth getting everyone on the same page before playing that the goal is to lose stylishly, not to win.
Overall, though, I would strongly recommend this to anyone who likes arthurian roleplaying, or who wants to see some more of the versatility of the Trophy engine. It's well-written, atmospheric, and a cool alternative to overt horror.
Just a minor note on the layout: at every chapter the decorative banners flip side. Not a huge deal, but a bit annoying. The banners also stick out a bit too much, maybe make their background grey like the page?

I love the way all these concepts from Arthuriana are incorporated. Vices, hubris, deals with the Devil.